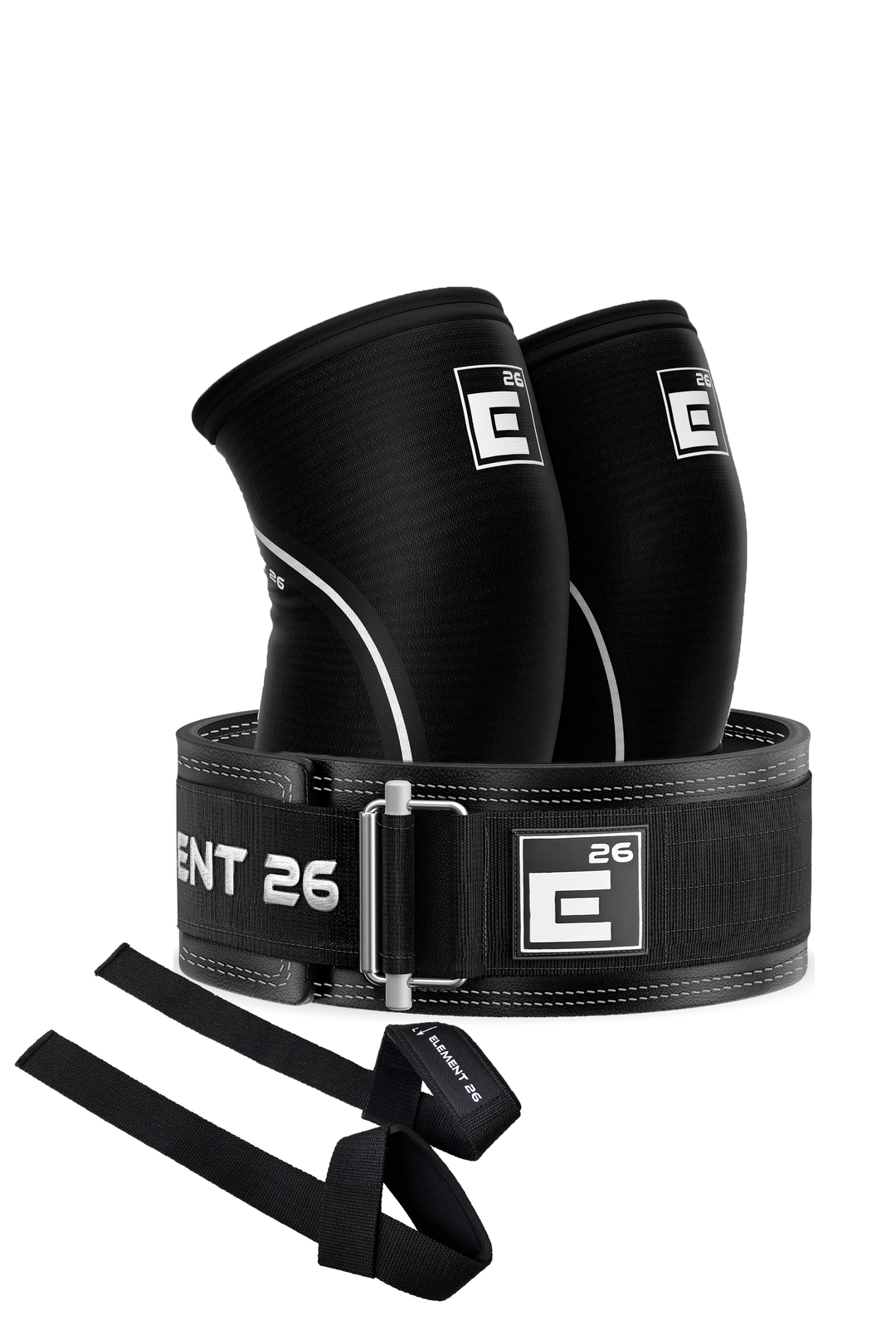 Strength Kit
Regular price
$209.96
Sale price
$99.97
Save $109.99
/
---
⛟ FREE SHIPPING ON ORDERS OVER $50
The Element 26 Strength Kit combines all the gear essentials to help you Destroy Your PR's, Not Your Body.

This includes a Hybrid Leather Weightlifting Belt, a pair of 6mm Knee Sleeves, and a pair of Figure-8 Lifting Straps. This combination gives you everything you need for achieving a new PR on any type of squat, deadlift, Olympic lift, bench press, or any of your major compound movements.
You select the size of your Hybrid Leather Weightlifting Belt, the size and color of your 6mm Knee Sleeves, and the size of your Figure-8 Lifting Straps. 
Features:
Hybrid Leather Weightlifting Belt: This new patent pending belt combines the support of a leather body with the versatility of a nylon strap. At 6mm thick and 4 inches wide, this belt is approved for all competition use. Complete with our Self-Locking® Buckle system, there's infinite adjustability and no risk for the nylon-velcro strap to ever pop open during those crucial moments. No bulky prong buckles or lever systems that can impede the bar path or get in the way of your range of motion.   
6mm Knee Sleeves: The Element 26 6mm thick Knee Sleeves provide the perfect balance of compression and mobility for your toughest lifting sessions. Reinforced with a durable nylon outer shell to handle the volume and load, these knee sleeves are great for high-rep bodybuilding movements or low-rep, high load powerlifting training. 
Lifting Straps: Using premium materials that offer incredible grip to the bar, comfort, and longevity these straps are on a different level than anything else on the market. We took the traditional strap and made it better with comfort neoprene padding and a insertion guide to ensure you don't waste time figuring out which way they are supposed to go.